Receive a Free Quote Today:
Receive a Free Quote Today:
Receive a Free Quote Today:
Voyager® Turbo Transformer
---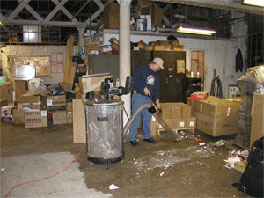 Voyager Turbo modular vacuum system enables multi-application cleaning with the versatility of a Shoulder Sling Vacuum or a Canister/ Drum Vacuum, in commercial and industrial applications.The core of the system is the Turbo Transformer Power Head, which uses massive airflow to clean up debris with ease. It will quickly collect most any type of dry, light debris with the included standard accessory kit. The ultimate, in modular cleaning systems, can be transformed in seconds to the Shoulder Sling Vacuum with the help of the Turbo Portable Kit. Convert the Turbo Transformer in seconds to the larger capacity Drum unit with the Transformer Drum Kit. Maneuverable, with a large capacity disposable debris collection bag, this unit is ideal for larger jobs. You can also reach into tight areas, hard to reach ledges and other above-floor areas with the Transformer's flexible hose. This cleaning system is able to be enhanced with various accessories in order to meet your specific cleaning conditions. Not sure which configuration meets you cleaning solution needs? Contact us to discuss what fits your needs.
Lint and Fiber Cleanup
Threads
Scraps
Wood and Metal Shavings
Clippings
Plastic Debris and Pellets
Sawdust
Vent Screens
Styrofoam Peanuts & Popcorn
Cans And Cups
To include but not limited to:
Restaurants / Catering Halls
Parking Lots
Bowling Alleys
Machine
Skating Rinks
Manufacturing:

Furniture
Textile
Wood or Metal Shops
Paper
Theaters
Warehouses
Post Offices
Distribution Centers
Factories
Amusement Parks
Industrial Facilities:
Turbo Portable Shoulder Sling Vacuum:
Advanced impact resistant Turbo fan creates 500 CFM airflow
Motor peaks at 5 HP to pick up bulky debris with ease
Heavy duty die cast aluminum housing for long term use
Lightweight – weighs only 13 lbs. (5.9 kg)
Easy-to-empty zippered collector bag is machine washable
Overload protection prevents motor burnout
Safety limit switch allows motor to operate only when cover or accessories are locked in place
5 year limited warranty
UL listed and CE approved
Turbo Drum / Canister Vacuum:
(With the feature set above, the Drum / Canister Vacuum also features):
55 gallon polyethylene drum
Custom molded lid with integral filter
5 caster universal dolly
4" dia. flexible collection hose (10 ft.)
4" dia. intake chute
Disposable drum liners
Motor: 5 peak HP Airflow: 500 CFM Static Pressure: 15″ water lift Bag Capacity: 3 cubic feet Inlet: 4″ to 2 1/2″ Diameter Power: Available in 100V, 115V and 230V – 50/60 Hz.
Optional Accessories to change the unit's configuration or extend it's reach, such as extension tubes or replacement parts, are also available.
Contact us
to learn what is available for your needs.